Forum rules
Please note that the extended image rules for the Gallery forum also apply here.

Sat 31 Dec, 2011 2:09 pm
stoogest wrote:In the last few weeks the zipper busted on it (it's been 3 years, not too bad an innings!) and I'm looking at replacing it with the Lowepro Toploader Pro AW 65 with the optional chest harness, as from all the reviews I've read it takes the strain off the shoulders and fits quite comfortably. It also comes with a waterproof cover that tucks away under the bag.
Yeah the chest harness does help distribute the weight nicely, I haven't really noticed the weight being carried on the front, if anything I find it helps counter balance the load on the back a little! The water proof cover is reasonable but doesn't completely cover the bag, so in a really heavy downpour, or pushing through wet scrub etc it wont keep the camera bag completely dry, but certainly helps.
Mon 02 Jan, 2012 7:56 pm
Good to hear that the harness works well. Do you have the 65? I was looking at the 70 and 75 but I reckon they'll be too bulky for bushwalking (and it would probably be wasted space anyway!).
Tue 03 Jan, 2012 8:24 am
I have had the Lowepro 70Aw for a while- and a couple lens cases to go on the side for a tele (70-200) and the other side for a flash. Following Mickeymoo's sugestion got the harness for Christmas. no walks yet but definately makes more accessible.

PS on the subject of carrying cameras- my last snowshoe trip (Kosy) in August last year the forecast looked absolutely miserable so didnt take a camera at all- only to find form day 2 had the best weather and trees piled high with snow!! errrrr only a phone to take photos- not again!!

Robert
Tue 03 Jan, 2012 10:38 am
stoogest wrote:Good to hear that the harness works well. Do you have the 65? I was looking at the 70 and 75 but I reckon they'll be too bulky for bush walking (and it would probably be wasted space anyway!).
I usually have my 17-40 on the camera (5D) and the 70-200 and extension tubes in the other half, then filter holder, filters, cleaning gear, spare batteries etc go in the in the front pocket, all up I think its around 5kgs of gear (excluding tripod of course) and currently there isn't too much room left, so it really depends on the size of the camera body, lenses and the other bits of gear you intend to carry as to which one will suit! If you don't use a long lens much then an option would be to keep the long lens in the backpack and get a smaller top loader for the camera and wide angle etc
As I think I may have mentioned previously the 75 can make it a little tricky to see where you're placing your feet on more technical ground, especially heading down scree slopes etc, but I have found I get used to it reasonably easy, although it became a pain when doing the Western Arthurs and I ended up putting it in the backpack a fair bit when traversing the more scrambly bits.
Always pays to carry the camera doesn't it Robert!!
Thu 02 Feb, 2012 6:03 pm
I've been using one of the Lowepro toploader cases, but was fairly disappointed with the built in rain cover...did very little for 120mm rain in 24 hrs, so it was a bit more of an extreme test, but none the less, still had a damp SLR at the end of it (and thankfully suffered no issues). I liked the convienience of the toploader case, as it slung nicely across the chest for easy access while walking, although as mentioned, does make a bit of a blind spot for foot placement. I found these waterproof bags, and got the SLR case version.
http://www.over-board.com.au/waterproof ... a-bag.html
The bags are light, have a good roll top waterproof seal, and my Nikon D50 + 18-200mm lens are a snug fit. The bags basically have no padding, but was able to make a neat eggshell foam inner to nestle the camera into. They stock a good range of a wide variety of waterproof bags as well, so worth checking out for other purposes (should note, not connected to Overboard, just a happy customer).
Cheers,
Dan
Mon 16 Jul, 2012 8:59 pm
There's a great range of waterproof camera bags here! I wish I had one of these on my Milford trip back in January.
http://store.aquapac.net/explore-product-range/waterproof-camera-cases.html?waterproof_rating=33_32_26_31_30_27
Sat 11 Aug, 2012 5:27 pm
Well 40 years ago there was nothing but your standard 'over the shoulder" camera bags so you had to make use of what was available. I wanted to have my Konica Autoreflex T ready to shoot while walking, when I spent three weeks in Tassie in Dec1970/Jan71, so found an army surplus canvas ammo bag that I clipped to my pack straps and wore this way to Pedder, Frenchmans, and Lake St Clair to Cradle in all weather, and the camera survived. (It didn't survive an overturned canoe in PNG in 1978.) It's interesting to reflect upon the fact that my all metal body SLR with 50mm ƒ1.4 lens, including 35mm and 135mm lenses, weighed amore than 2Kg then, and the point and shoot I carry today is only 235 grams!


Tue 14 Aug, 2012 7:59 pm
You're still wearing that same hat, aren't you?
Thu 23 Aug, 2012 7:01 am
I use a F-Stop bag, you no longer can get them in Australia but they are great and I've tried Lowepro, Tamrac etcetc before buying this one and it's the best so far
Mon 12 Nov, 2012 7:45 pm
north-north-west wrote:You're still wearing that same hat, aren't you?
LOL! Same style in leather but the 1970's one was a black felt one that folded up easily, was reasonable rain protection, but also good for filtering dodgy summer Queensland puddle water.
Sun 18 Nov, 2012 7:49 pm
JonnyBoy wrote:Wonder if anyone can help here please. Are there any backpacks which are geared towards carrying photographic gear or alternatively camera bags which attach to backpacks? I'm quite a serious photographer and for my trip to Oz next year would love to take my 'proper' gear (Nikon D90, couple of lenses) along. Trouble is it's quite heavy and bulky. I really don't want to compromise and take a 'basic' camera along but I want to be comfortable and not have to think about carrying separate bags etc. Has any manufacturer cracked this?!
http://www.ebay.com.au/itm/High-quality ... 19d5e3cc51
Tue 04 Dec, 2012 12:35 pm
Wow, haven't been here for about a month and thought I'd have a look and saw this discussion.
I guess it's whatever floats your boat and I have to pre-empt any of my comments by stating that I am not an overnight walker (love my motorhome at nights, sorry fellas) and I am a Nikon DSLR lover.
So, I volunteered for the World Cycling Championships at Geelong in 2010 and got assigned to the photographers for the four days. It was illuminating to say the least. Without exception they all carried their cameras ready to shoot and most of them had all the corners and other bits taped over with duct tape. Most carried two cameras all set to fire and, if they did have a bag, it carried their lunch and one spare lens.
I've ended up using a backpack with three unlined compartments in it that I bought from Rivers for $4 on special. It's really light, hasn't torn yet and carries all my spare lens, food and first aid stuff. I also have a Lowepro but it's way to heavy to lug through the bush so I just use it for storing my spare cameras, lens and cleaning gear.
Don't know if that helps anyone but thanks for raising the topic.
Must add Tasadam, stoked to see two of my pics on calendar covers; thank you.
Cheers, Ian
Attachments

Me with backpack at Carnarvon Gorge
Carnarvon Gorge - my favourite spot (2) (640x430).jpg (311.68 KiB) Viewed 36937 times
Fri 11 Jan, 2013 10:25 pm
There's a few other options for carrying an slr with a backpack for those of us that need to take some bling for a walk :-
https://peakdesignltd.com/capture/
http://www.thinktankphoto.com/products/ ... n-kit.aspx
Still researching before I decide on a purchase. Having the SLR in my pack does result in missed photo opportunities. Ideally, I like having my camera hanging on a Black rapid strap, so its at the ready all the time, but that doesn't quite work with a back pack, so I may make a custom strap to use the black rapid attachment with or buy something new - not sure yet.
Mon 14 Jan, 2013 8:43 pm
Ian your picture of Carnarvon gorge. Did you get to see much?
About 30 years ago we spent about a week there and mostly entirely to ourselves.
A magnificent place. Back then I could walk anywhere, but probably restricted now.
There are some priceless treasures in those gorges and cliffs.
View from on top is rather intriguing, stunning and just plain wonderful.
Mon 14 Jan, 2013 9:20 pm
Here's one I haven't seen before:
The
Keyhole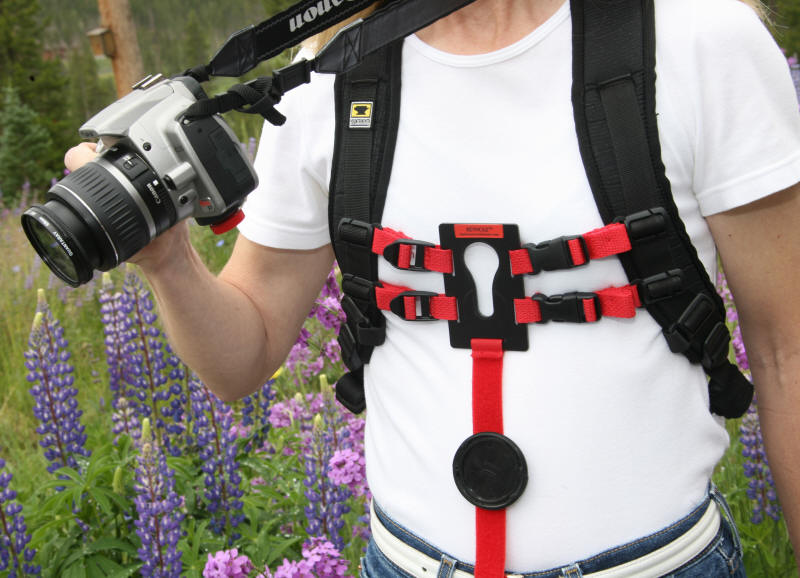 Wed 16 Jan, 2013 9:32 am
I have the Peak Design Capture and it's great for having the camera handy, here's a few pictures showing how it works with my Nikon D7000 with 18-200mm Nikkor lens and also with my much smaller Sony NEX-5R with 16-50mm lens. I've done an overnight walk with the Nikon carried this way and it was awesome to have the camera so handy, got a great shot of a Tiger snake eating frogs without having to hang around bothering the snake for too long!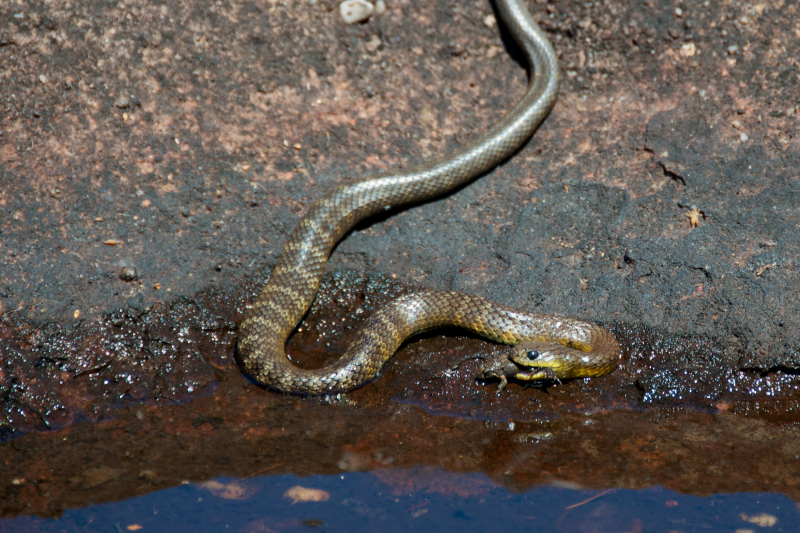 Peak design also just launched a leash/strap system via Kickstarter which looks great too, I'm still waiting for mine to arrive
Wed 16 Jan, 2013 6:42 pm
Great for track walking, but I'd never use it in scrub. You'd have to be careful scrambling, too.
Wed 16 Jan, 2013 8:52 pm
I know, I carried the new Sony NEX in a small camera bag on my waist belt on a recent Budawangs trip with serious scrub bashing! (4 hours for 0.5km...)
Thu 24 Jan, 2013 6:49 am
I've very mixed thoughts and yesterday scrambling back from a trip to the base of a waterfall highlighted the issue of 1 step forward 2 back scenario. Occasionally I was hugging the landscape sometimes involuntarily

.
I see this a good concept but probably limited to more 'sedentary' walking.
Whilst acknowledging for much bush walking it would be okay, on the times it wouldn't, would be sufficient (for me) to question the need to carry something that adds weight when that could be an 'extra' best left at home.
I carry my camera slung around my neck and when not needed across my shoulders. I took note yesterday in light of this device and decided (for me) that was probably best /safest option.
The concept is excellent, it's the application that probably is the limiting factor.
Sun 17 Mar, 2013 2:44 pm
Hey guys, I am kind of new to this forum and havent read all the replies but has anyone investigated using the Clik range of gear.
Its a case that has a waterproof cover, keeps your dSLR close to your chest and can even be used abseiling etc. They also have a 40l pack which I used for 3 months in Pakistan last year to carry my Nikon D800 several lenses and a macbook air. Once again has a rain cover which comes in handy to keep everything nice and dry.
Another things I have used in the past is a cotton carrier. its quite convenient but doesn't have any weather protection.
http://brad-jackson.info/climbing-with-clik/
Mon 01 Apr, 2013 5:29 pm
I also use various lowepro toploader bags. For my old D70 and kit lens I used a TLZ1 which is quite light and worked well for many years.
However, I now use a toploader Pro70 AW (built in rain cover ) for my larger camera and lens .
I remove the camera bag straps and using two cheap alloy clips, attach the bag to my rucksack at the front. It helps to offset its weight. I also use see-through pencil cases from 'office works' to hold all my bits and pieces (they look like Kevlar sail cloth). I then place them in a dry bag.
A spare lens would be a luxury if you are also carrying a tripod on a long walk.
My camera, lens, tripod and bits would weigh around 6kg which is more than enough for me.
Thu 11 Apr, 2013 3:36 pm
The Aarn backpack with their chest harness system is quite handy. In fact, the first thing I thought of when I say their packs was how easy it is to access my camera.

I do a lot of photography and I believe in capturing the best image possible. I also believe in coming back from multi day hikes alive.
It is pretty pointless for me if they find my corpse and starts looking thought them and say. "Nice photos. Pity he is died."
So my trade off now is weight-to-image quality ratio.

My long hike kit is the the Ricoh GXR with the P10 and 28mm module and the VF-2 and a light tripod that is sturdy up to my knees.
Thu 11 Apr, 2013 7:59 pm
I also use a Toploader Pro, straps modified/removed so it attaches to my pack harness at three points.

D800 and 200mm macro (with a 50 f1.8 and 28 f2) weigh a fair bit and want padding and some additional weather protection.

This setup can restrict air across my belly and chest, making things hotter and sweatier! But I consider it well worth being able to get my camera out and shooting quickly.

I also strap a monopod to the side of my pack, but haven't worked out a method of quick-release yet.
Sat 27 Apr, 2013 3:32 pm
Here's what I will be carrying the RX100 around in:
It's the
BlackRapid SnapR10
(they come in larger sizes for up to m43 compacts and small fixed lens cameras)
What sold me was the tether which also helps stabilise the camera like BlackRapid's other straps and the ability to remove the bag from the strap. The bag is weather resistant but definitely not waterproof. In case of inclement weather, I carry a suitably small drybag in my pocket and drop the SnapR with camera into the drybag and re-attach it back to the strap.
Sat 27 Apr, 2013 5:19 pm
Best piece of equipment I have (appart from camera) is my bag. Called Camera Armour, it is padded but most importantly for Tassie waterproof. Totally airtight main compartment which can be submerged underwater. I attach it with a couple of beenas to the front of my pack harness so its always accessible on my chest while walking.
Sat 27 Apr, 2013 5:34 pm
tibboh,
Got a link or photo? I have seen a product called Camera Armour, but it is a bump/knock/scratch protection system for SLRs rather than a waterproofing. Like this:
http://the-gadgeteer.com/2010/12/23/pro ... era-armor/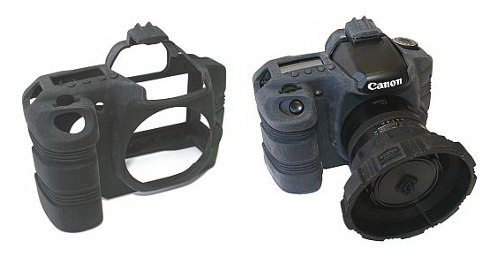 Tue 07 Jan, 2014 10:33 am
Reporting in...
I've been trying out Joby's Ultrafit Sling Strap on the last few walks for my dSLR. Not sure if anyone has used it, it's a cross shoulder sling strap that's connected to the dSLR by the tripod screw socket i.e. Camera carried upside down. A key feature of this product is its ability to extend the strap as the camera is brought up for shooting and then shortened and locked to length when returned to its carriage position, all without shifting the shoulder contact section of the strap. Given it's a cross shoulder strap and unavoidable interference with my backpack shoulder straps, I have found it works if I put the sling strap on first (left shoulder and camera at right hip) before mounting my backpack. On walks, with the buckle locked down, the camera unit easily stays to the right and slightly behind my waist/hip with little concern. With a flick on the buckle, the camera can be brought up to eye level. Whilst the carriage position isn't as well protected as when I don't have a backpack (right behind my hip/waist), the compromised position is still a major improvement when compared with a regular shoulder strap. The one little negative is the fact that the strap digs into my neck on the left by a little, requiring repositioning to under the left backpack shoulder strap at irregular intervals. This may just be a match issue that relates to my body build. YMMV. The other important issue that should be noted is its mounting mechanism. Whilst I read on the net that some people stated that their camera have come loose, personally I found it difficult to happen. Apart from the connecting plate to be sufficiently solid (ABS plastic I believe), the solid rubber pad ensured a solid and non-slip engagement. Through my walks over the past weeks, it has not loosened one bit. As such, I am quite confident of its security. I further understand that with the Pro model, they provide a little safety cord, one that any MYO member can easily rig up at home. For those who use tripods, this current unit is not that convenient as it'll require repeated remounting. Otherwise, I understand Joby sells an adaptor plates that can work around this limitation. Overall, I'm quite satisfied with it and will be my default camera carriage method in the foreseeable future. Purchase was through Amazon but I understand it's available through some of our local camera stores too.
Hope this is of help to some.
http://joby.com/camera-straps/pro-sling-strap/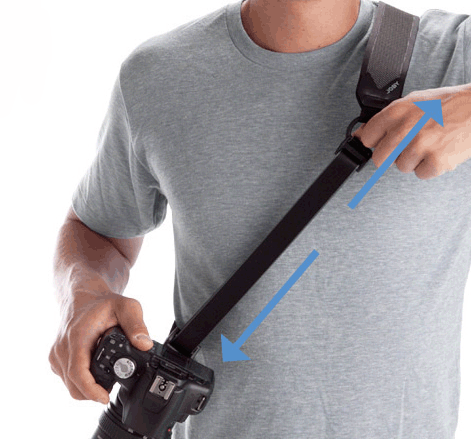 Tue 07 Jan, 2014 2:34 pm
I just modded a Garmin pack strap mount to hold it off the tripod screw.
But only for a little waterproof Optio.
Fri 17 Jan, 2014 5:47 pm
I have spent the first couple of weeks of this year walking with the Sony A7R plus a variety of lenses. This was in the Otways for a week and then up to the Bogong High Plains.
After reading about the Aarn photo pockets on this forum, got a set. I only needed one, so gave the matching one to a mate who is a photographer. We both love the way this works.
With one pocket, easily carry the camera with an attached lens plus two other lenses and bits and bobs (cards, batteries etc)
The built in dri sacs are great, the padding is easily added to with lens bags etc. and the camera is so very accessible.
My Aarn packs were his original models, I just got one of his newer models and look forward to trying this out in Tasmania next week


I used to carry a Canon 5D2 with 24-105 lens on a chest harness. *&%$#! heavy and got in the way regularly while getting through difficult country or climbing. Much less of an issue now, swings out of the way easily.
I can't see the point of a big SLR any more
Mon 20 Jan, 2014 1:52 pm
Suresh wrote:I used to carry a Canon 5D2 with 24-105 lens on a chest harness. *&%$#! heavy and got in the way regularly while getting through difficult country or climbing. Much less of an issue now, swings out of the way easily.
I can't see the point of a big SLR any more
Weight can be quite subjective. I am comfortable hiking with a Lowepro 600AW packed with a 5D2, two 1D bodies, a 500/4L IS and a couple of other lenses and a heavy duty carbon fiber tripod - all up probably 12+ KG. Of course, not as fast a hiker as without any weight.